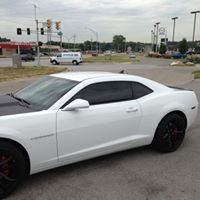 What you should know before getting your windows tinted…
Disclaimer: This list is not written to scare you away from getting your windows tinted but help to keep you informed.
Window Tint is designed to be looked at from 5' away, not 6", while window tint looks nice its main function is not for cosmetic purposes the majority of the time. Window film blocks 98-99% of UVA/UVB rays and can reduce heat up to 60%.
Imperfections are normal in the first 4 weeks including hazing, moisture, bubbles, etc. Do not touch the film if you see any of these imperfection because it can make it worse and will cause damage that isn't included in your warranty.
A Dot Matrix comes on some vehicles from the factory. They are little iron dots that can push away the tint from the window. We do have different options available if this is a cosmetic concern for you.
Windshield visors are cut from the factory with a machine straight edge. We do not have any control over the straightness of the machine cut line or the curvature of your vehicles front windshield.
On some makes/models the window seals are so tight that we cannot always get the film to "tuck" in on the very sides this is sometimes an issue with foreign vehicles and may result in additional charges for additional time.
On framed roll up windows you will have a slight gap at the top. The film cannot go all the way to the top as it may peal.
All of our film is hand cut-if you are looking for computer cut we unfortunately do not offer this.
As we always try our hardest to keep dirt from contaminating the film we cannot stop all the little particles in the air.
All film includes a lifetime warranty that protects from fading, peeling, discoloring, bubbling, and any other type of defect of the film. The following is not covered under warranty; any type of damage that you inflict to the window or film, this includes but isn't limited to: breakage, stickers, sharp object damage, seat belts, rings, animals, etc.
Window Tint Instructions
Drying period
Your tint will take about 2 to 3 weeks to fully dry and cure. Your tinted windows may appear hazy or lumpy, and it may seem to have water bubbles. Please do not roll your windows down for 3 to 5 days or try to push the water out until dry! The rear windshield will be the most noticeable, just let it dry and cure
Cleaning:
Do not use anything that contains ammonia. Do not use any chemicals, scrapers, scrubber pads to clean window tint. We recommend anything that is SAFE FOR TINTED WINDOWS cleaning spray, soapy water and soft paper towels are the best option.
Imperfections
Due to the nature of the product, some degrees of dust contamination and or minor imperfections are present in every window film application. Pre-existing flaws or scratches and metal deposits on the glass are often more noticeable after the windows are tinted. Although we strive for the best result possible, contaminants do end up on the film. This is unavoidable and very common.
DOT Matrix
Most cars have a black ceramic edge on the top of the window. Sometimes this edge is straight and flat, sometimes it will have a dotted edge. These areas are thick and prevent the window film from sticking to the area between the dots. The results in a blurry looking strip on the glass
TERMS AND CONDITIONS
DO NOT LOWER YOUR TINTED WINDOWS FOR 5 DAYS
DO NOT CLEAN WINDOW FILM UNTIL 30 DAYS AFTER INSTALLATION. Must be TINT-SAFE, AMMONIA-FREE glass cleaners or MILD DETERGENT and WATER using a soft microfiber cloth
Complete DRY-OUT time, including trapped moisture, water bubbles and cloudy-look take as long as 30 to 60 days after installation to dissipate
Customers accept all liability for tints darker than the legal limit of 35% on DRIVER and PASSENGER FRONT windows
Barely visible seams, borders and dust specks are considered QUALITY WORK
Seams will be used wherever glass curve dictates
Rubber strips will be removed wherever necessary when glass clearance is required
Decals will be removed unless other instructions are given
Omaha Glass Pro is not responsible for any malfunctions of the rear defroster or wires
Omaha Glass Pro does not assume responsibility for scratches on windows
Defects caused by tampering, removal of tint, unauthorized alterations or repairs initiated by customer are not covered under our warranty and is automatically voided Thanks for your business. We hope to see you again.